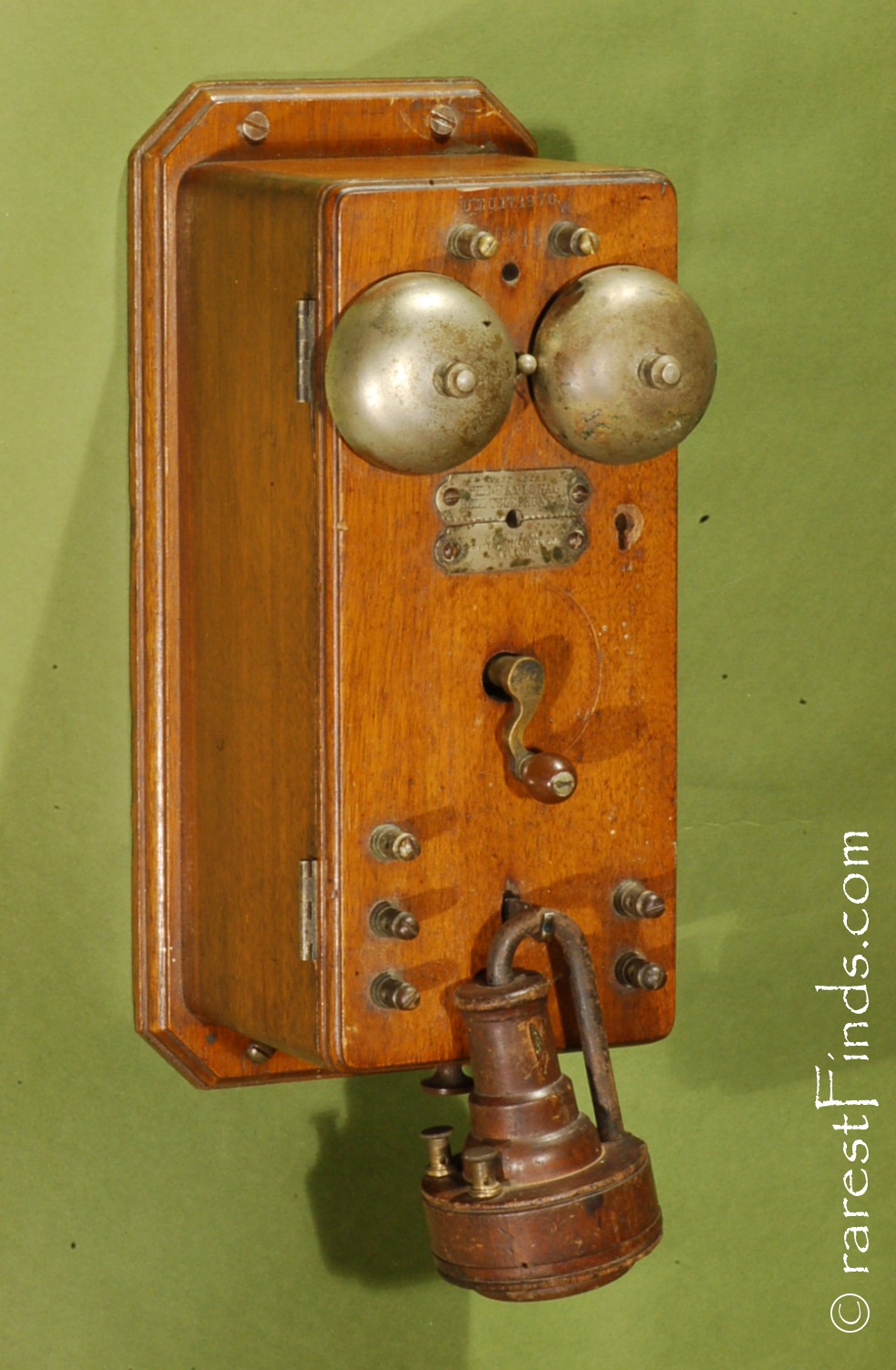 Exceedingly rare historic Telephone, Bell´s first Telephone manufactured by Charles Williams, the telephone every museum and collector is looking for!
Both, his mother and his wife, were deaf. This profoundly influenced Bell's life. He intensely researched acoustics, sound and human hearing and speech. His interest and research on hearing devices eventually culminated in Bell being awarded the first U.S. patent for the telephone on March 7, 1876. Bell considered his invention an intrusion on his real work as a scientist and refused to have a telephone in his study.
Two individuals, Thomas A. Watson and Charles Williams Jr., played an important role in Bell's success perfecting and manufacturing the first commercially successful Telephon,
read more>>
Posted on 10 Jan 2020, 18:51 - Category: Office, Banking
Leave a comment - Edit - Delete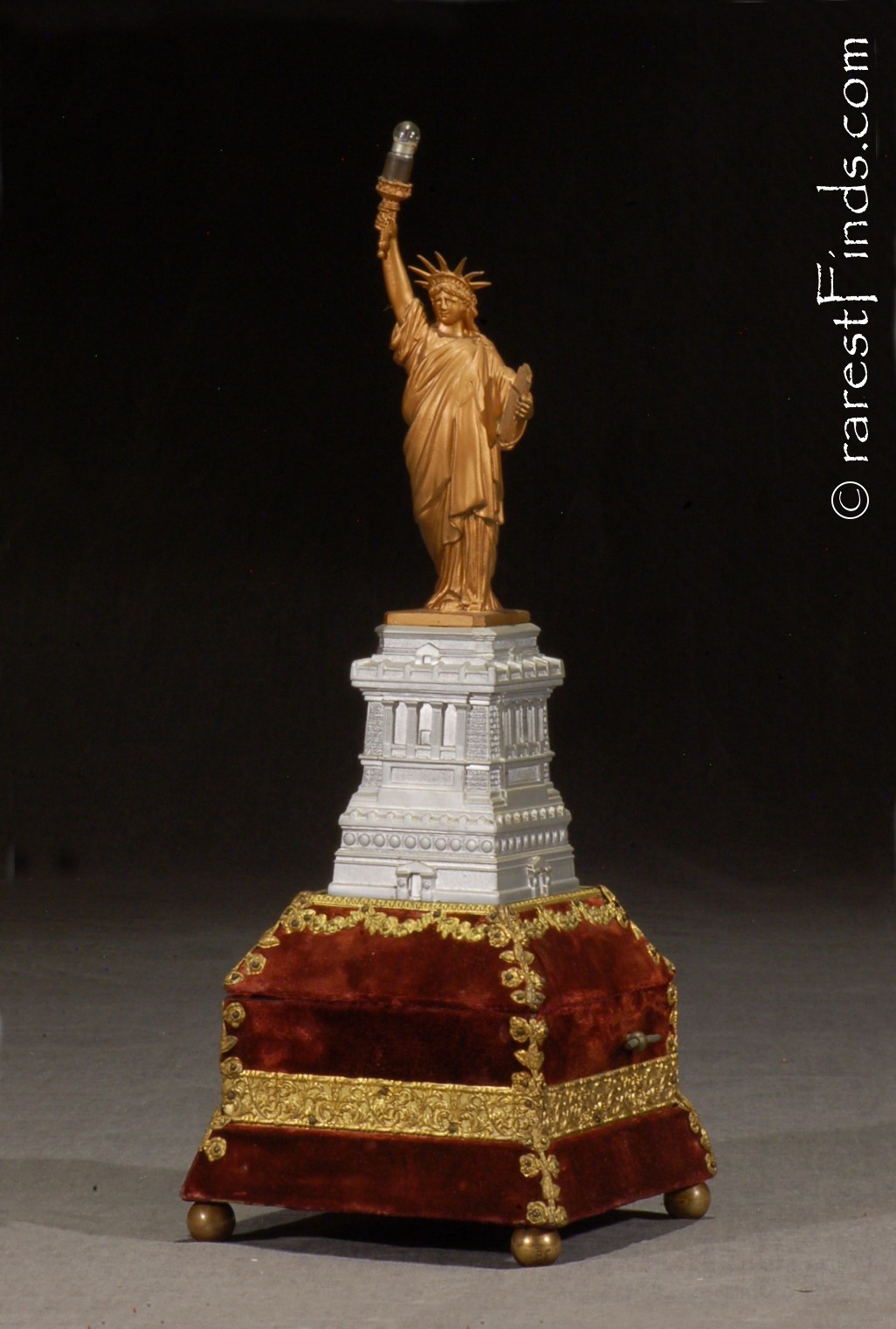 Unbelievable find! Most collectors do know about this novelty light as catalogs have been found, proving that this light was actually offered back in the 1890´s. However,
none have been found to this day
other then the one offered here.
Bill Utley wrote in his book, considered by many collectors the "bible" for flashlight and novelty light collectors:
"The Birdsall 1896 catalog offered a Statue of Liberty Electric Novelty with the torch illuminated with a bulb powered by a dry cell battery. It was offered with, or without a music box. Conrad Hubert offered a similar novelty in his 1898 Ever Ready catalog. The Statue was continued in Ever Ready catalogs until 1904.
Neither Birdsall nor Ever Ready Statues of Liberty have been located to date
." I contacted Bill Utley after finding this Statue of Liberty Novelty Light and asked him if in the 15 years after publishing his book, one would have been found. His answer was, "
I´ve never seen one Peter
, so you have the only one that I know of. Congratulations!"
Bill Utley.
read more>>
Posted on 04 Jan 2019, 18:17 - Category: Early Lighting
Leave a comment - Edit - Delete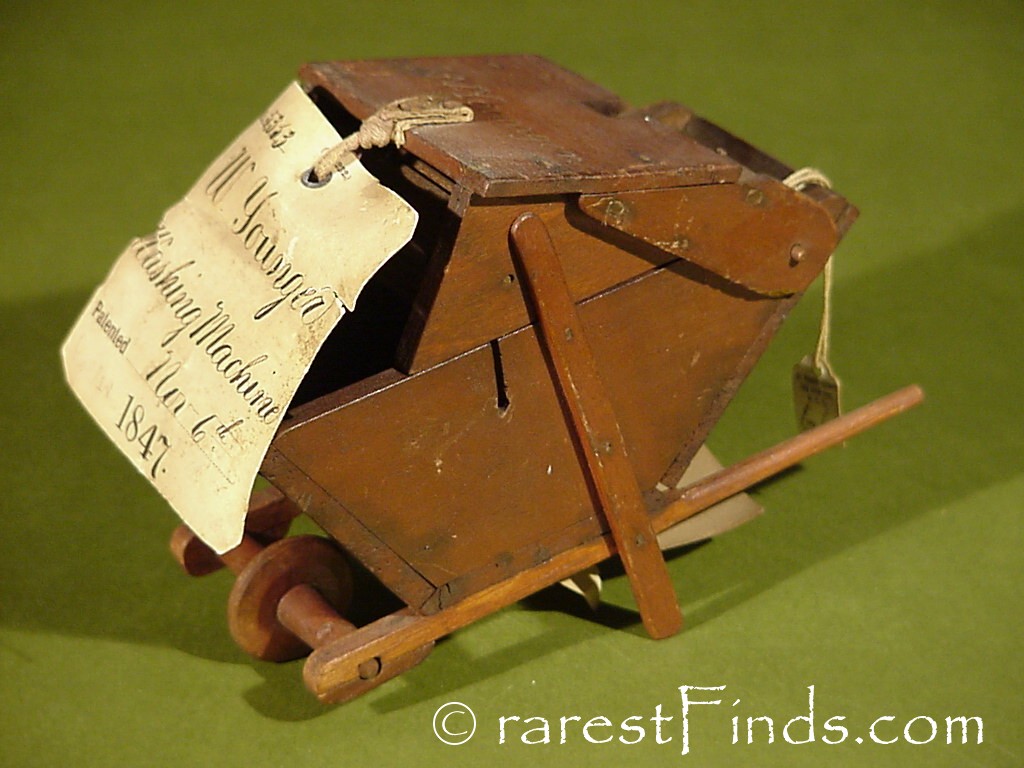 William Younger of Huntington Tennessee had the unusual idea to use a wheelbarrow as the place for his invention, a washing machine, so the machine could easily be moved around. In 1847, he was among the first to patent a washing machine and his patent was issued on November 6th, and the number 5353 was assigned to his invention. The patent papers describe the function of his washing machine in part as, "what I claim therein as new and desire to secure by Letters Patent, is - The combination with the driving roller A, of the toothed roller C, fluted roller B, and rubbing board E; the board E, rubbing the clothing, and the rollers B and C, pressing upon and changing the position of the clothing as they are revolved, substantially in the manner and for the purpose herein set forth."
read more>>
Posted on 31 Oct 2019, 20:54 - Category: Patent Models
Leave a comment - Edit - Delete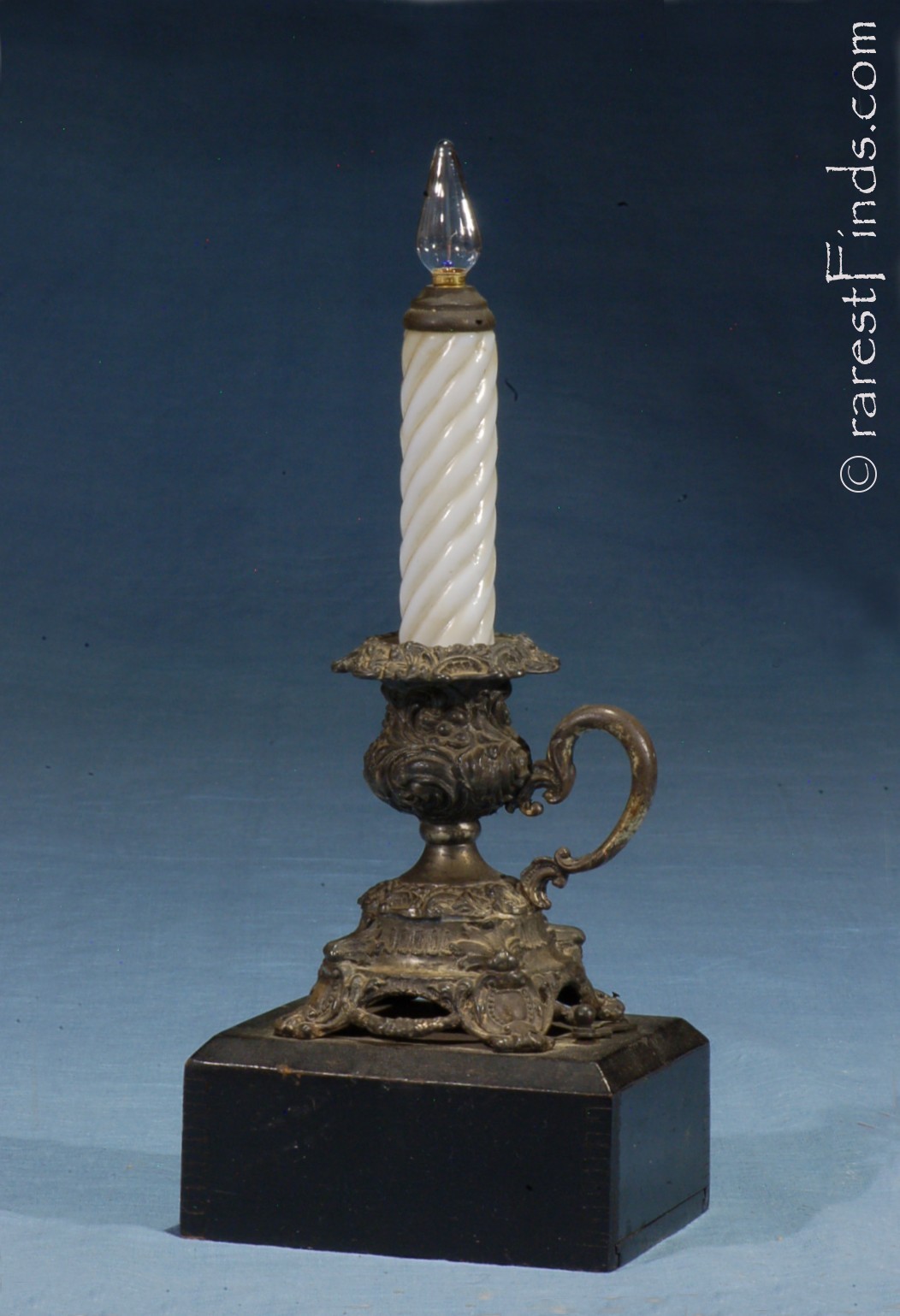 Thomas A. Edison worked tirelessly on his incandescent light bulb which he finally perfected in 1879. This remarkable invention did away with open flames and their inherent danger to start all kinds of fires. It was also the first necessary step to replace the portable candlestick or candle light with a battery powered light. First attempts were made with wet-cell batteries but for obvious reasons the liquid acid used in such "portable" lights proved to be impractical. Another necessary invention had to be made to make the portable light practical; the dry-cell battery. French inventor Georges Lionel Leclanche invented the Zinc-Carbon dry cell BATTERY and protected his invention with US Patent no. 64,113 which issued on April 23, 1867.
Several improvements were necessary to get to the point were Zinc-Carbon dry-cell batteries were save to use in portable lights,
read more>>
Posted on 17 Oct 2018, 17:17 - Category: Early Lighting
Leave a comment - Edit - Delete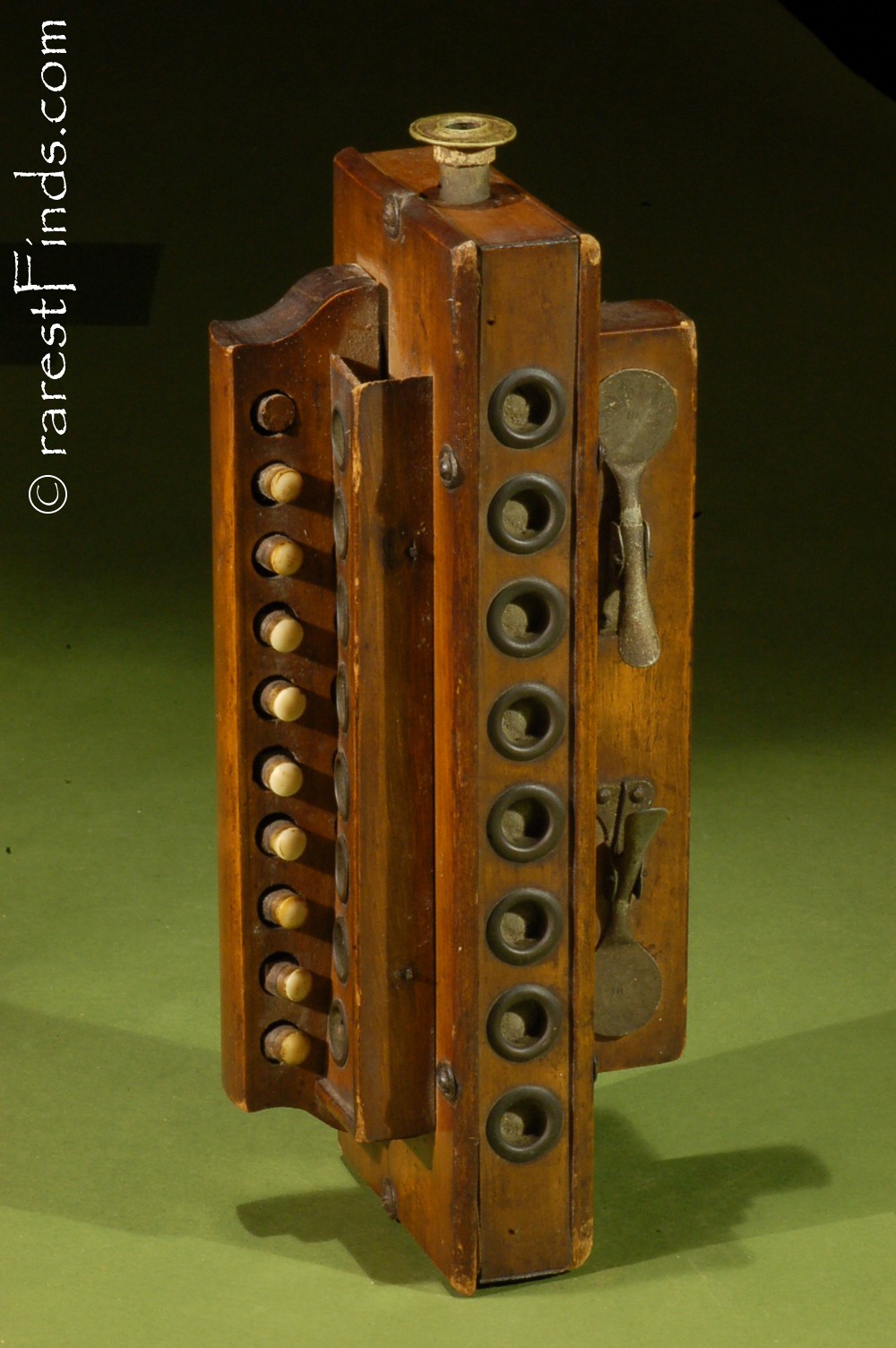 Very early blow accordion, first half of the 19th century, with 10 ivory keys and two registers. The instrument is unsigned, but believed to be American made. Blow accordions are also called Flute Harmonicas.
read more>>
Posted on 18 July 2019, 17:36 - Category: Musical Instruments
Leave a comment - Edit - Delete
Very early machine for adding and subtracting numbers from 0-100 in the shape of an astrolabe. The machine - signed "Pierre Fardoil à Paris" is hand-crafted in steel and brass, measures 5-1/2 inches in height and is in perfect working condition.
There are less than ten other models of calculators known which were invented or made before circa 1700.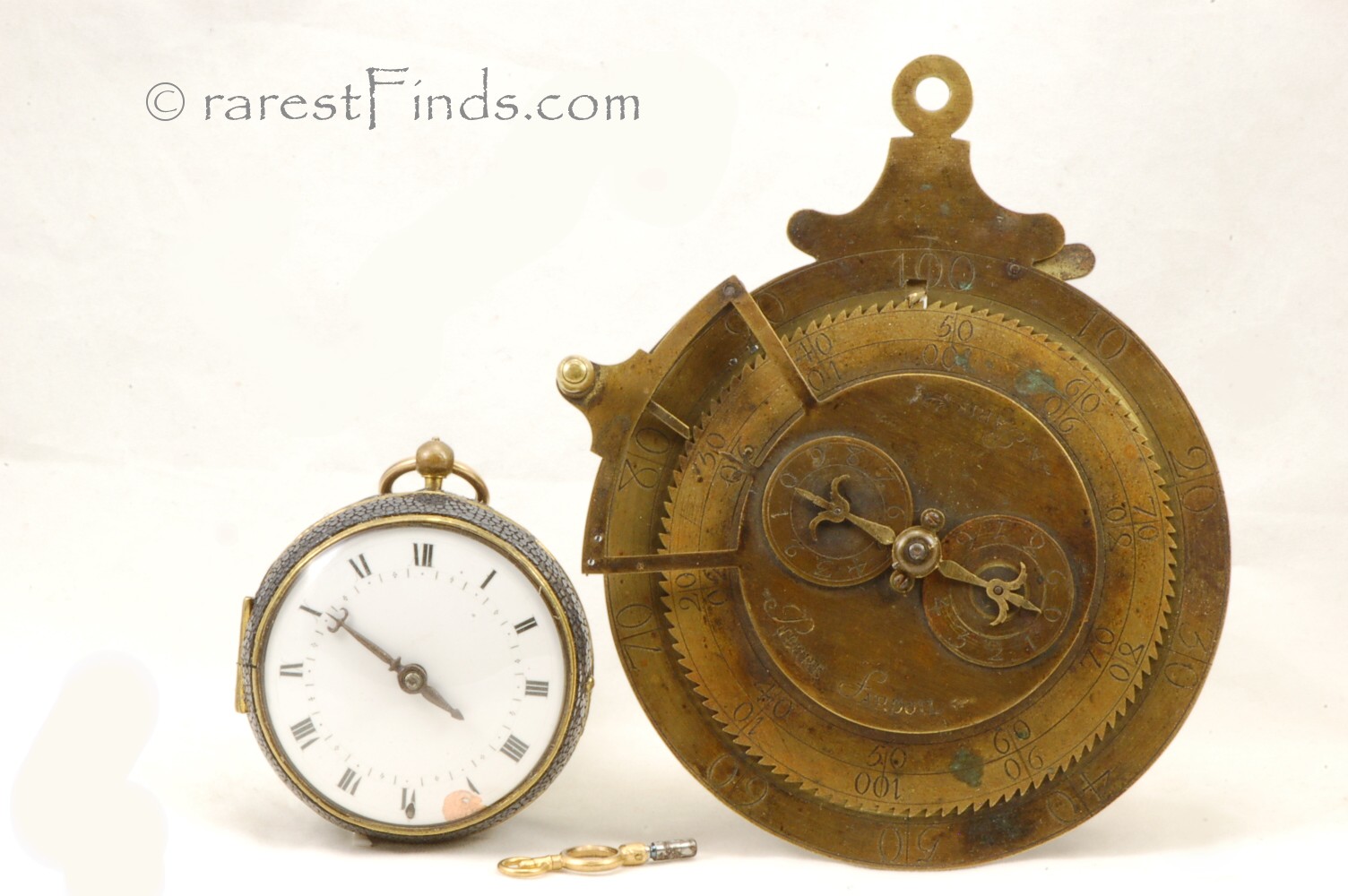 Fardoil's contribution to the development of mechanical calculating devices is the introduction of his mechanism which enables the operator to read the result without counting the dividing marks on a circular scale of a disc shaped adding machine. Fardoil achieved this improvement by utilizing a planetary gear turning two round scales underneath two stationary hands ten times over the entire range of the calculator. The two scales show the numbers from 0-9 for additions and for subtractions respectively. This simple use of a planetary gear enabled Fardoil to provide a read-out in the range of 0-100 without the need of a carry-over from 9 to 10, 20, 30, etc.
Unlike the very early calculators by Schickard, Leibniz, Pascal, Grillet, and others, Fardoil's calculator was a true "pocket calculator" as it is flat and would fit in any pocket.
read more>>
Posted on 11 Feb 2020, 02:31 - Category: Office, Banking
Leave a comment - Edit - Delete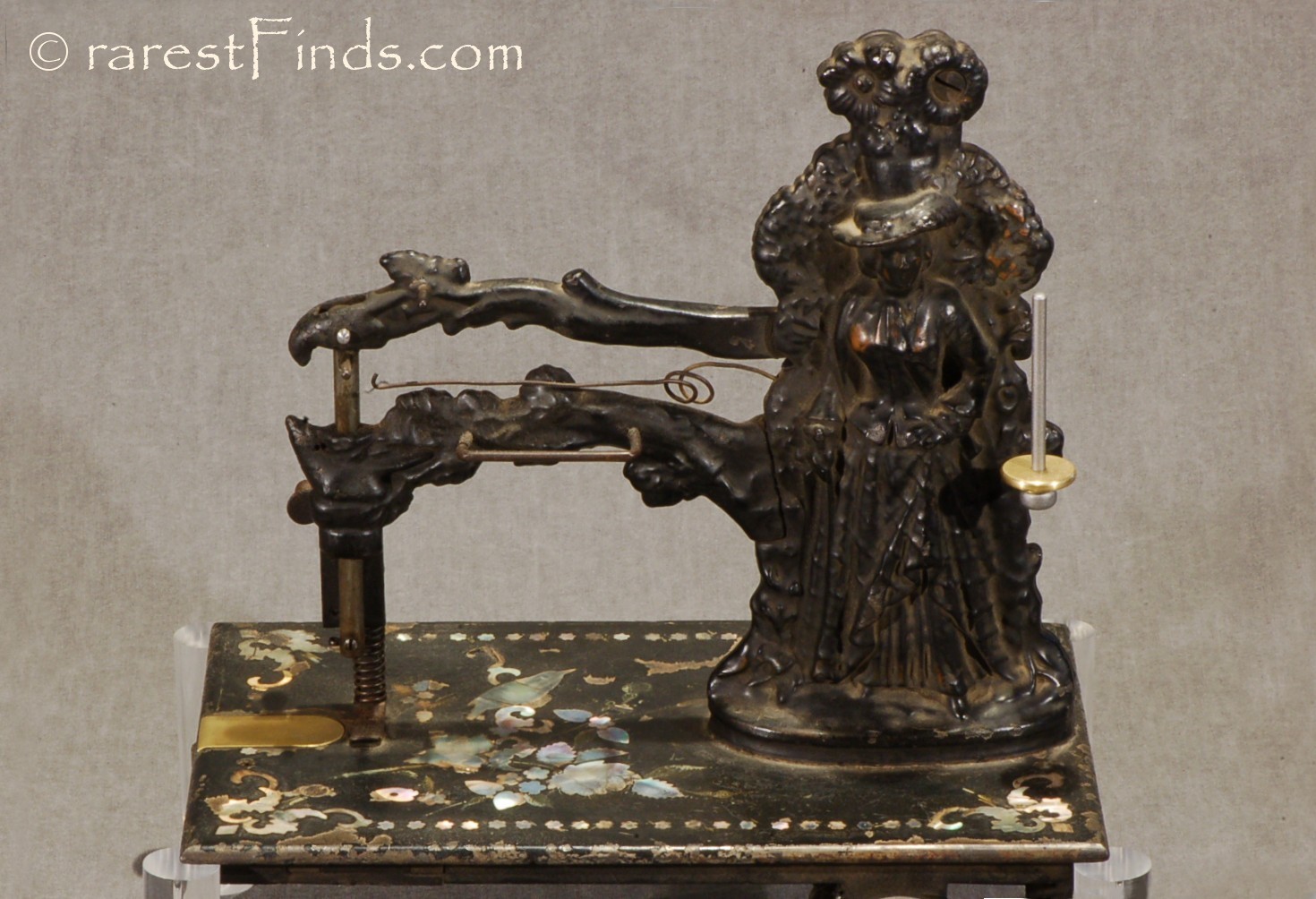 Grace Roger Cooper´s claim that this machine was actually manufactured despite the fact that no machine had ever been found is now confirmed. In her book, former curator of the Textile Division of the Smithsonian Institution in Washington, DC, made this claim based on her observation that two different inventors, independent from each other, used this attractive machine as model for their application for a patent for an improved feeding mechanism.
One of the inventors was George Hensel of New York City for which patent 24,737 was issued on July 12, 1859. Since Hensel´s patent application was for an improvement in the feed, there was no need to put a highly decorative head unless such a machine was commercially available. The patent specifications merely state that the head is "ornamented."
Sidney Parker of Sing Sing, New York, also used a "Lady" or "Cora Munro" head and was issued patent number 24,780, on the same date as the Hensel patent. Parker´s patent also covered an improved feeding mechanism.
The design of this machine is based on a character in James Fenimore Cooper´s
Last of the Mohicans
, called "Cora Munro,"
read more>>
Posted on 12 Oct 2018, 21:43 - Category: Sewing Machines
1 Comment - Edit - Delete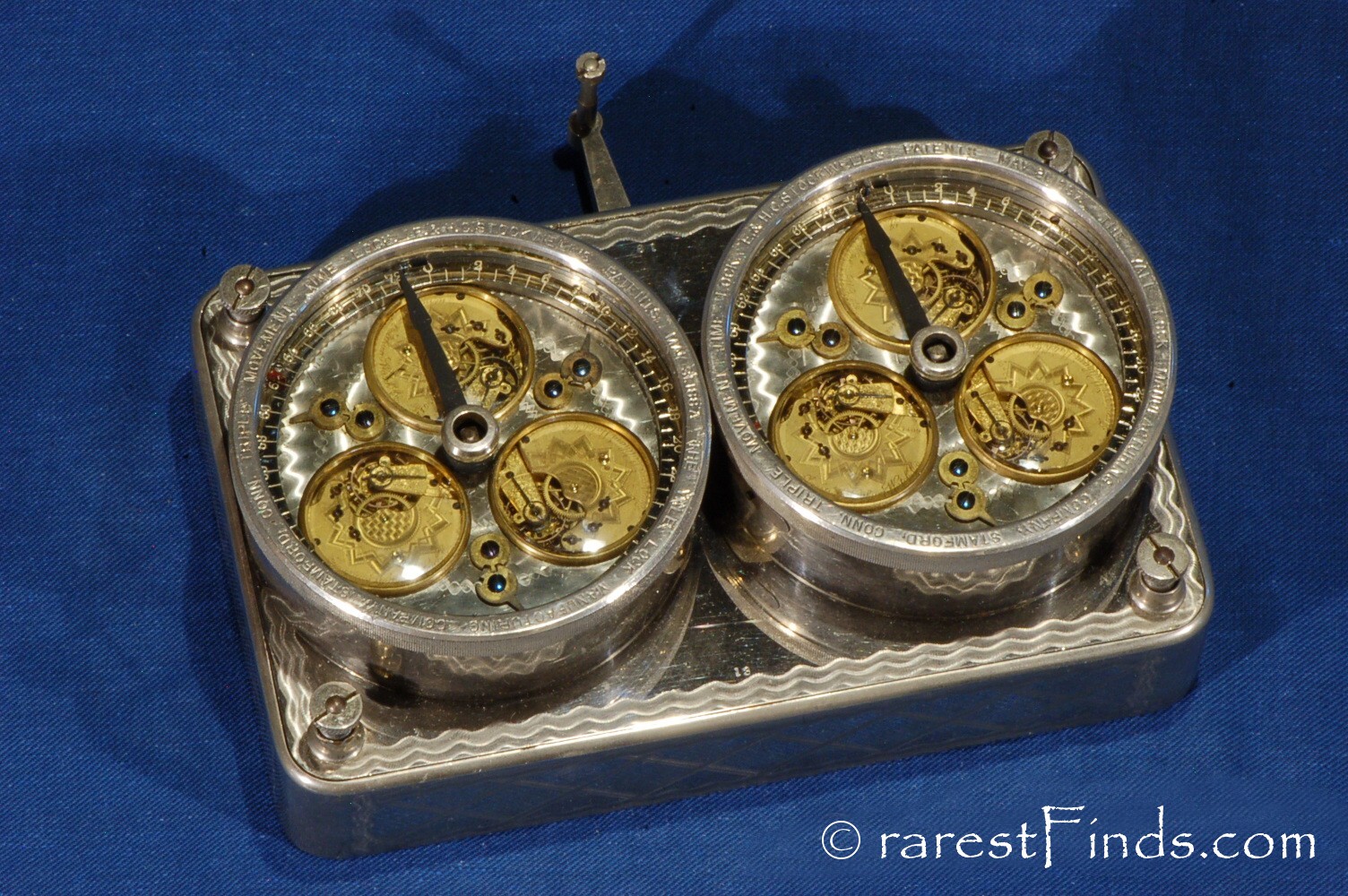 Only 13 were ever built, none were believed to be extant till this Yale And Towne Sextuple or model EE Safe-Time-Lock was found! This is the only extant safe-time-lock with a redundancy of five clock movements!
This time-lock is based on Emory Stockwell's patent with number 363'920, issued on May 31, 1887,
read more>>
Posted on 19 Oct 2018, 09:13 - Category: Office, Banking
Leave a comment - Edit - Delete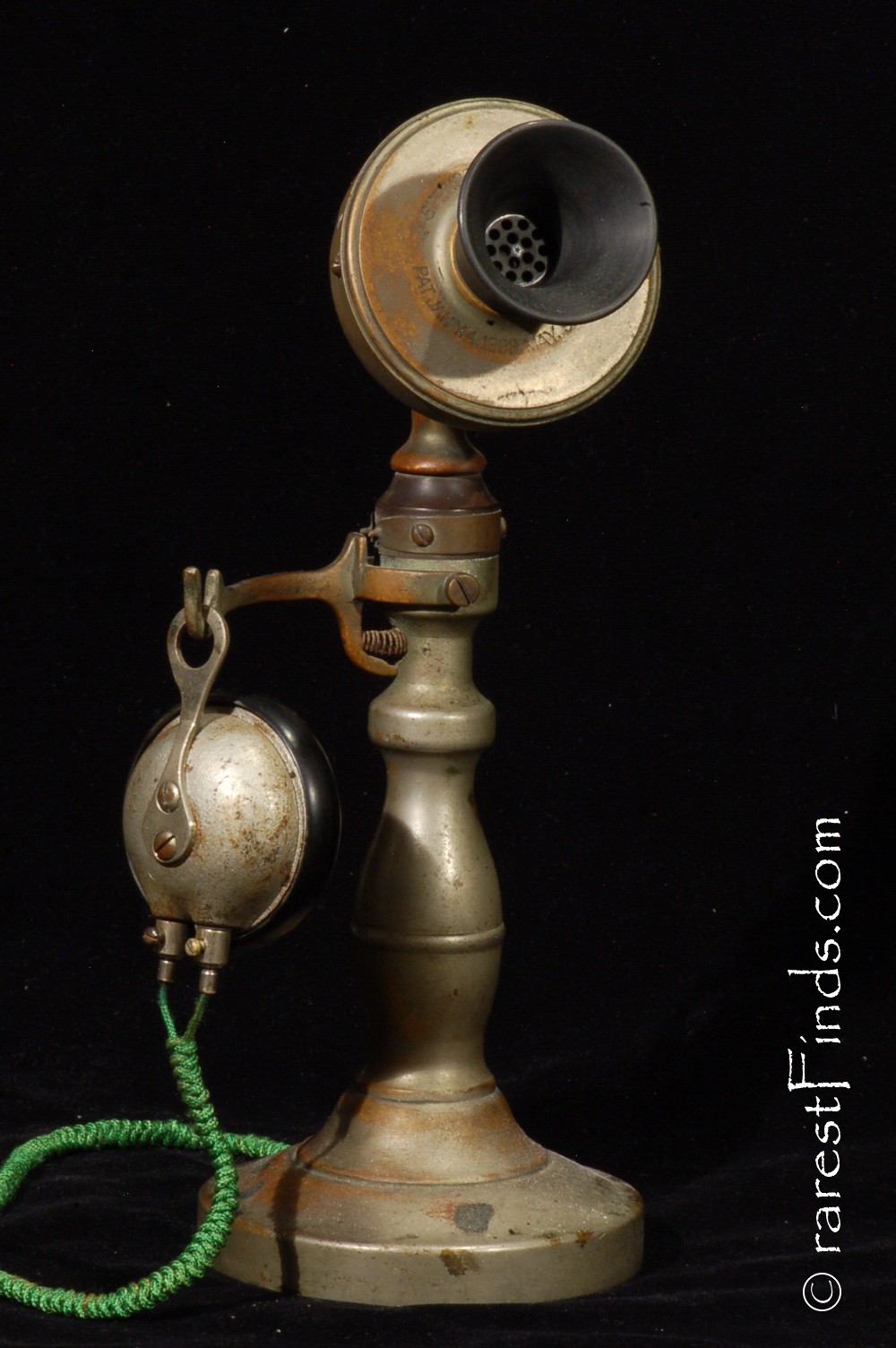 Almost impossible to find, a telephone which is unknown to the large and very active community of telephone collectors, the Spencer Potbelly Candlestick Telephone. I could not find a picture or any record in any publication in the field of historic telephony, or on the Internet! The only records I could find are three patents issued to James H. Spencer and Malcolm S. Keyes, both of New York City, N.Y., a description in the Scientific American Supplement issue of January 29, 1898, and a description of the novel transmitter published in the Electrical World and Engineer, Volume 34, page 248.
There are many telphone related patents issued and no actual hardware was ever found; this was true about the US Patents with the numbers 596'834, issued on January 4, 1898, and the consecutive numbers 624'696, and 624'697, both issued on the same day, May 9, 1899, untill this telephone was found to prove that it was actually manufactured. The serial number of 32 is an indication that there where not many made.
This candlestick telephone with the novel form of transmitter patented by Spencer and Keyes was manufactured by the the Spencer Electrical Company, 163 Greenwich Street, New York City, N.Y.
A description of the novel transmitter, published in the Electrical World and Engineer, Volume 34, page 248, states: "The object of the invention is to avoid metallic vibrations, only the intended actual sound being properly transmitted. To accomplish this result, Mr. Spencer employs novel means of supporting the diaphragm,"
read more>>
Posted on 01 June 2019, 13:29 - Category: Office, Banking
Leave a comment - Edit - Delete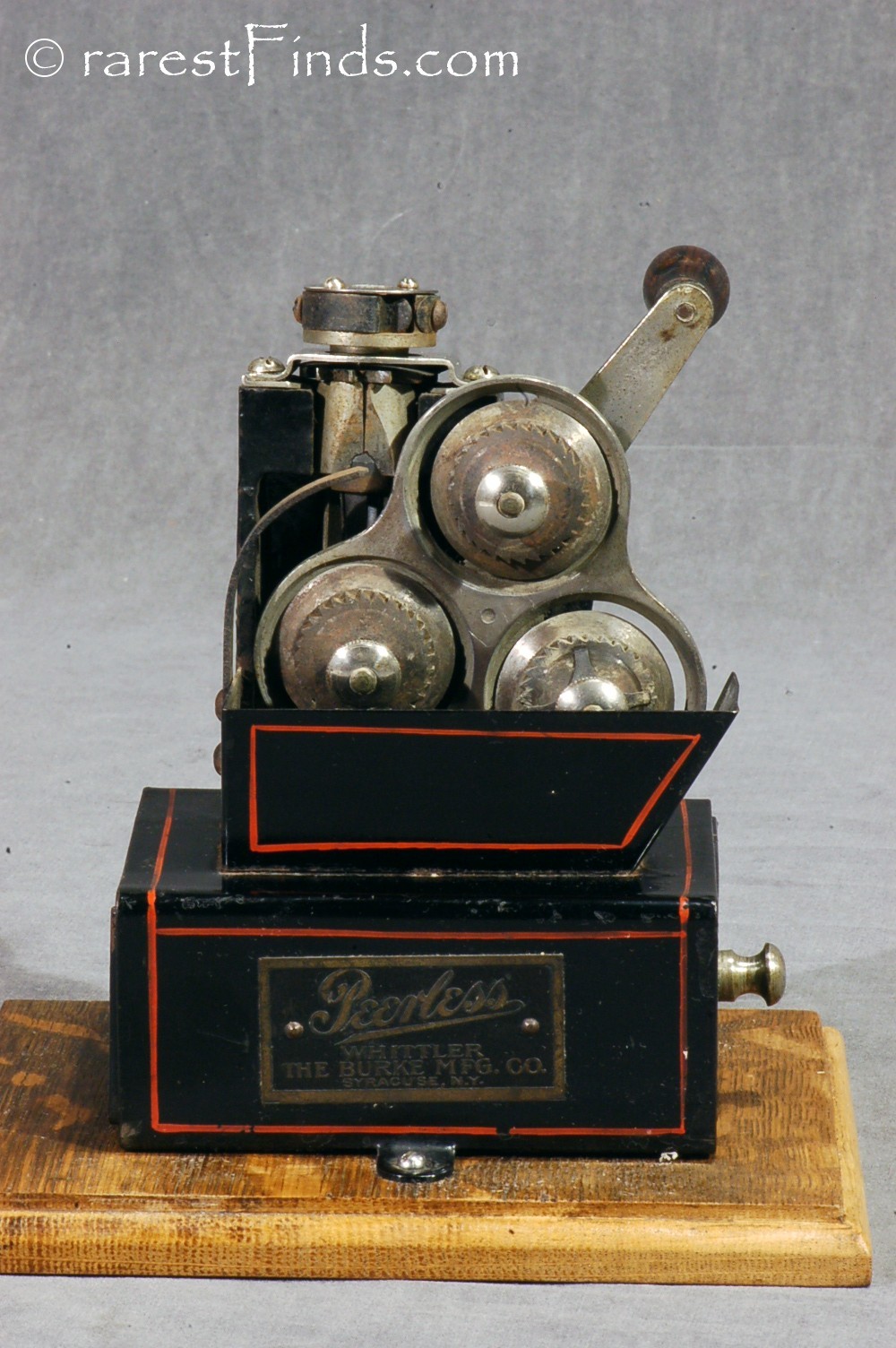 This is an exceedingly rare version with the three cutting knifes of the Peerless Pencil Pointer. If you are an experienced collector, you know that the last one of these showed up on eBay two years ago with a buy it now price of $950.00. The machine sold as soon as it was listed.
Whittler applied for a patent and started manufacturing before the patent issued. In short order, he first manufactured a machine with just one rotating knife, then two, and finally three. The patent never issued and Whittler had to seize production, hence, the machine is very scarce,
read more>>
Posted on 25 Apr 2019, 20:17 - Category: Office, Banking
Leave a comment - Edit - Delete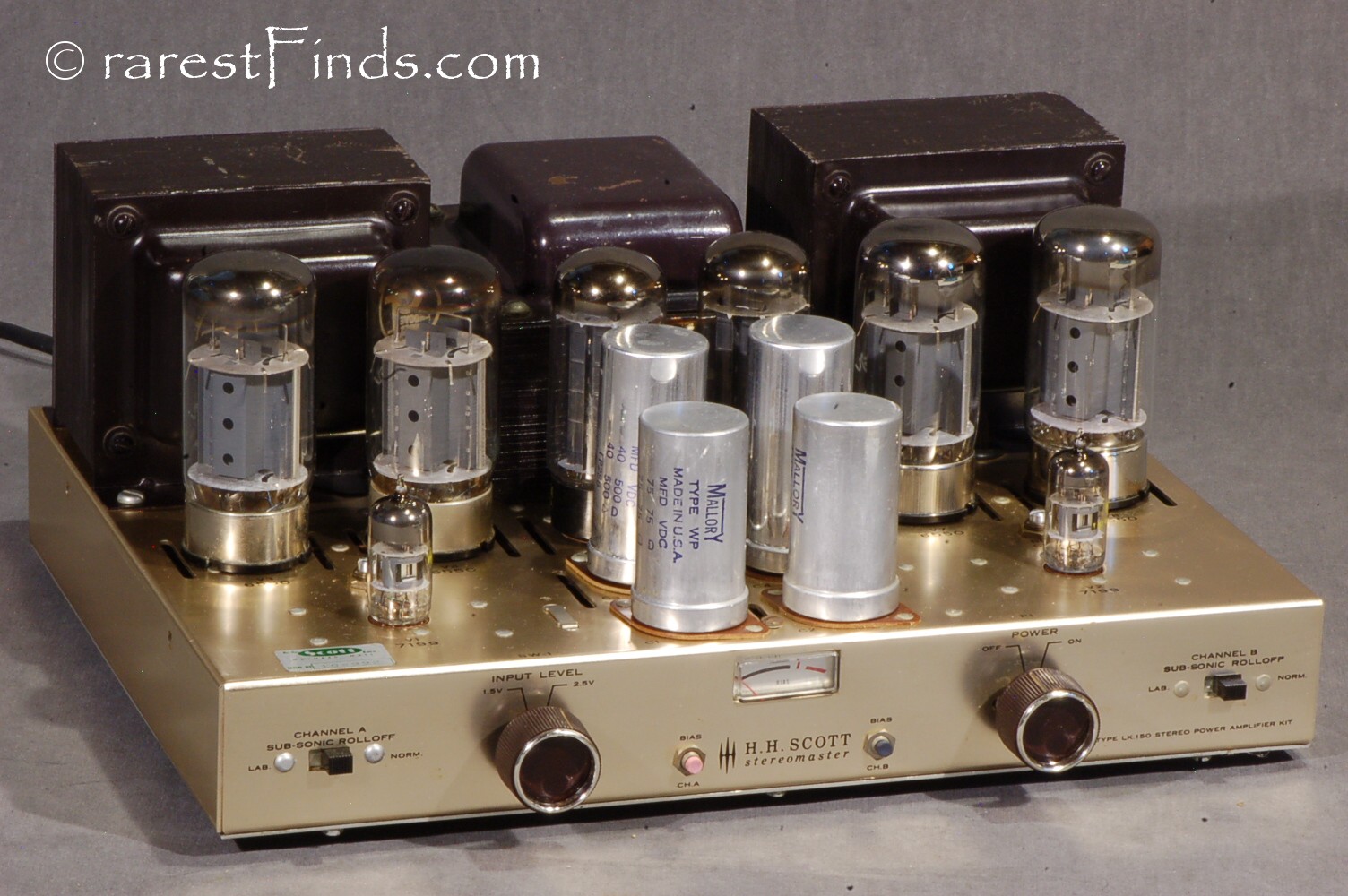 The pinnacle of HiFi design with vacuum tube technology, the legendary Power Amplifier model LK-150 designed by H.H. Scott in the early 1960's. Producing 75 Watts RMS per channel, this amplifier is a beast! This amplifier comes with its original instruction booklet and other original documentation,
read more>>
Posted on 18 Apr 2019, 17:17 - Category: HiFi Gear
1 Comment - Edit - Delete
Pages: [1] [2]